본문
Toxicity Tests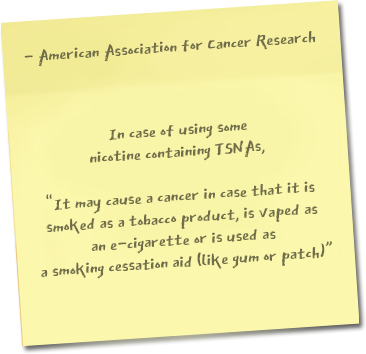 Experimental Research Papers of New York University (NYU)
From an experiment in NYU on the relevancy between vaping and cancers, it was found that the steam from e-juices using tobacco plant-derived nicotine damages the DNAs in the lung and the bladder of a human being.
Around 22.5% of 40 mice as experiment objects which were exposed to the steam from e-cigarettes using 'tobacco plant-derived nicotine' got a lung cancer and 57.5% of them showed some warnings before getting a bladder cancer.
On the other hand, there are no mice getting a cancer among 20 ones which are exposed to the steam from e-cigarettes not containing such a kind of nicotine.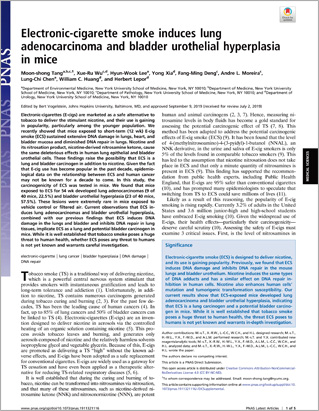 Results from a repeated dose inhalation toxicity test for "PHARMANIC"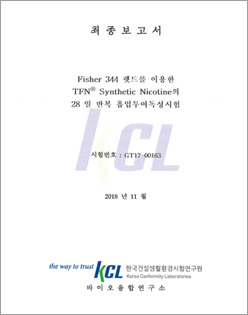 An abstract from a report on a repeated-dose inhalation toxicity test for 'PHARMANIC' ('R-S' Nicotine)
Any particular clinical manifestation has not observed from the control groups of female and male mice as the experiment object and each group which is exposed to each level of content of nicotine.
There have been no dead mice in all of the experiment groups consisting of female or male mice.
The body weight of each mouse in the female and male groups that are exposed to a high content of 'PHARMANIC' nicotine was reduced a lot compared to the control groups.
As the results from autopsies on all alive mice after the experiment is completed, any visually abnormal findings were not observed regarding to the exposure to the tested substance.
As the results from a repeated-dose inhalation toxicity test for 'R-S' nicotine, it is considered that there is little toxicity or weak toxicity.
Results from Tests for Tobacco-derived Nicotine
Abstracts from Research Papers, etc.
Ulrike Kogel, Walter K. Schlage,Florian Martin,Yang Xiang, Sam Ansari, Patrice Leroy. Patrick Vanscheeuwijck , Stephan Gebel , Ansgar Buettner, Christoph Wyss, Marco Esposito Julia Hoeng , Manuel C. Peitsch "A 28-day rat inhalation study with an integrated molecular toxicology endpoint demonstrates reduced exposure effects for a prototypic modified risk tobacco product compared with conventional cigarettes" Food and Chemical Toxicology 68 (2014) 204一217 Seong Jin Choi, Sang Hyub Lee, Sang Jin Lee, Mi Jin Yang, Kyu Hong Lee Subchronic inhalation toxicity study of 3R4F reference cigarette smoke in rats " Mol. Cell. Toxicol. (2016) 12:313-325
All of the Respiratory Cycle, Respiratory Volume and Peak Inhalation Flow Rate were lowered.
The numbers of hemoglobin, red blood cells, white blood cells and lymphocytes and the amount of cholesterol decreased.
The number of the lymphatic vessels in the thymus gland decreased, but the weights of the heart, the adrenal and the lung increased.
A reserved cell hyperplasia accompanied by cornification on the respiratory epithelium and Atrophy of Olfactory Epithelium on the squamous metaplasia
A change of inflammation on the parenchyma area and goblet cell hyperplasia in major bronchial tubes
Hair Damage and Dermatosclerosis
Occurrence of abnormalities in the lung, bronchial tubes, larynges and nasal cavities
Increased hypersensitiveness, injuries on hands, feet and tail, increased sneeze and eye closing and often cramps
Occurrence of Transfer of Tumor on lacteal glands, anterior pituitary glands, ovaries and skin
Comparative Materials
Christensen M. K. Smith D.F. "Antinociceptive effects of the stereoisomers of nicotine given intrathecally in spinal rats" J. Neural. Transm (1990) 80. Abstracted from a Research Paper
*The toxicity of tobacco plant-derived nicotine is around 970times as strong as that of 'R-S' nicotine.
Maria de Lourdes Pessole Biondo-SimOes, Natali Weniger Spellingl, S6rgio Issamu Ioshiilll, Rachel Biondo-SimoesI, Joao Carlos Domingues Repka
"The influence of nicotine on the population of fibroblasts in cutaneous scars in rats"
Acta Cirurgica Brasileira-Vol. 24 (6) 2009- 466, Abstracted from a Research Paper
*The toxicity of tobacco plant-derived nicotine is around 100times as strong as that of synthetic nicotine.