본문
Info
Products Dealt
E-Liquids, CSV (Disposable), Chargable Devices, Highly Concentrated Nicotine
Information for OEM Clients

Order Quantity and Unit Price
Order Quantity
20,000 ~
35,000 bottles
35,000 ~
50,000 bottles
50,000 ~
100,000 bottles
Over 100,000 bottles
Unit Price
(Excluding VAT)
Separate Inquiries
Supply Prices for Retailers
Classification of Retailers
General Retailers
Retailers as a member of KELSA
Unit Price
(Excluding VAT)
Separate Inquiries
OEMs shall have to abide by the quidelines of KELSA (Korea E-Liquid Safety Association) as each member of the association.
The quality of each e-liquid shall be complied with the EU-TPD and the information on the ingredients in each MSDS shall be disclosed to every customer.
There shall be used only the bottles for containing e-liquids which are officially authorized by KELSA.
Our company privides clients with the authorized bottles. (It shall not be allowed to use another kind of bottle other than the authorized ones.)
The production by an OEM shall be limited up to 10 brands per a contract.
The minimum production quantity per a brand shall be 2,000bottles at minimum and that per an additional quantity shall be 1,000 bottles at minimum.
Other kinds of subsidiary materials (for example, labels, individual packaging box, unit packaging box and stickers, etc.) shall be prepared by each OEM.
The conditions mentioned above shall be applied to December 31, 2020.
Any particulars to be changed additionally shall be agreed between both parties, that is, our company and each OEM
Information for ODM clients

Order Quantities and Unit Prices
Order Quantities
Less than
1,000 bottles
Not less than
1,000 bottles
Not less than
5,000 bottles
Not less than
10,000bottles
Unit Price
(Excluding VAT)
Separate Inquiries
ODM BRAND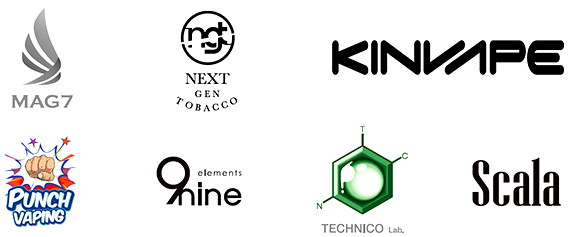 Only 30ml and 60ml (3mg & 4mg) bottles of e-liquids can be delivered for sales.
For 20ml ones, it is necessary to be consulted separately.
Even e-liquids which are made with our flavorings in stock (excluding TPD-compliant flavorings) can be distributed.
Online Sales
Since our products are not included into a tobacco product, those are not objects to be prohibited to be sold online.
However, we don't supply an online company with any of our products to prevent a juvenile from vaping easily. So, please understand it.